Numberical Controlled Rubber Strip and Sheet Cutting Machine


A. Product Picture

1. Normal type (Can cut up to 15mm rubber sheet)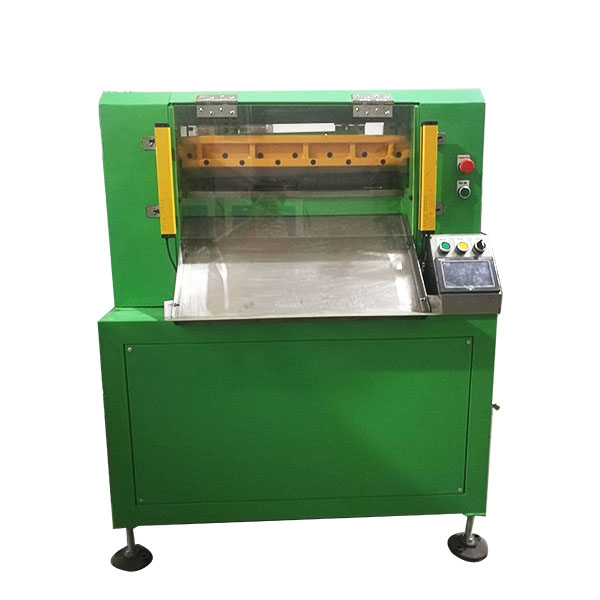 2. Advanced Type(Can cut up to 30mm thick rubber sheet and has electrical scale for auto weight control)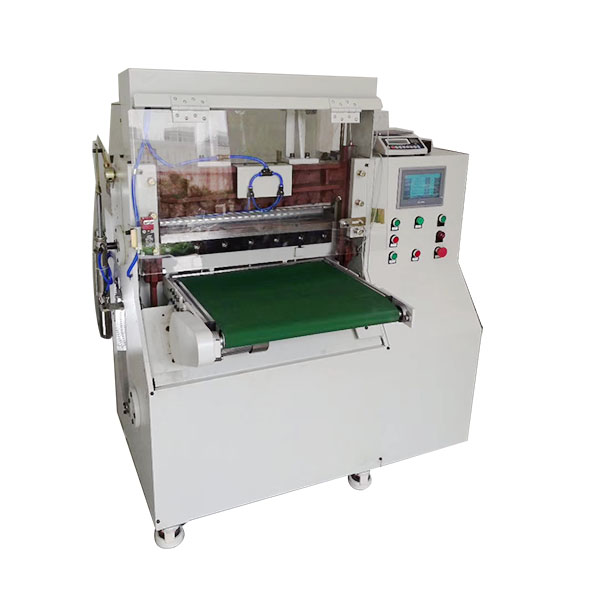 B.Technical Specifications

| | | | | |
| --- | --- | --- | --- | --- |
| Mode | PG-H-600 | PG-H-800 | PG-H-1000 | |
| Size | 1170*1300*1400 | 1170*1500*1400 | 1170*1700*1400 | |
| Weight | 900kg | 1100kg | 1300kg | |
| Cutting Direction | Horizontal | Horizontal | Horizontal | |
| Cutting width | ≤580mm | ≤800mm | ≤1000mm | |
| Cutting Length | 0.1-1000mm | 0.1-1000mm | 0.1-1000mm | |
|   |   |   |   | |
| Cutting Thickness | ≤30mm | ≤30mm | ≤30mm | |
|   |   |   |   | |
| Blade material | Tungsten Steel W18 | Tungsten Steel W18 | Tungsten Steel W18 | |
| Feeding mode | Servo motor | Servo motor | Servo motor | |
| Cut Speed | ≤80/min | ≤80/min | ≤80/min | |
| Power supply | 4kw 3ph 380v | 4kw 3ph 380v | 5.5kw 3ph 380v | |
| Speed Control | Inverter | Inverter | Inverter | |
| Operation Mode | Touch Screen | Touch Screen | Touch Screen | |

c
. Product Features(Advanced Type)
1. Numerical Rubber Cutting Machine use well-know brand PLC running at high precision and quick response.
2. Feeding system use brand servo motor with high accuracy, high stability and long life features. Feeding precision can be+-0.1mm and if the cut length is less than 20mm, the weighing precision can be+-0.02g
3. Main power uses 3phase slowdown brake motor, it is powerful and very safe.
4. Use imported fiber sense position components, it is accurate and durable.
5. Driven by chain belt system, can cut FKM sheet of hardness 90℃ easily
6. 7inch HMI touch screen has the function of automatic counting, monitoring and warning notice, it is convenient and more direct viewing
7. Cutting speed is controlled by brand inverter, the cutting speed can be adjusted directly and then it leads to high efficiency.
8. Strip outlet mouth apply safety door device, two steps protection method to ensure operation safety
9. Automatic material press system allows lower burden on operator and more convenient operation
10. Cutting blade use Tungsten steel W18 to ensure durability and long cutting life of blade。
11. Cutting blade apply bevel cut design, it can reduce the cutting resistance and improve cutting speed, upper blade and lower blade cooperate together precisely to ensure less abrasion on the cutting blades。

12. Oil lubricant system use automatic electromagnetic pump to reduce break and can filling the oil automatically
13. Innovated and advance design and manufacturing of the CNC rubber cutting machine is very easy to operate
By using touch screen, any length or cutting speed can be adjusted during the operation.